Most of the time on the Raising Tiny Healthy Humans Facebook page (find it here: https://www.facebook.com/groups/225720924840732/ ) we talk about what we are putting into our bodies. So today, I wanted to chat a little bit about what we are putting ON our bodies. Our skin is the body's largest organ right, so why don't we care as much about what we put on it on a daily basis as we do the organic foods we put in it??!! I do want to broach this from the perspective of not just us as women (or men) who need daily cleaning routines, but also our kids. They are growing up, playing sports, getting sweaty, dirty, and maybe at that age where pimples are starting to show! Why not start them off with a healthy and organic way of cleaning and managing their acne so that they will continue it into their future!
I really started looking into better skin care when my husband and I were trying to have our first baby. Things just weren't "acting" right in my body and I was on a mission to figure out what it was. I took a look at the food I was eating, and eventually started looking into the things I was putting on my skin, nails, and hair on a daily basis. I ran into words like parabens, fragrance, triclosan, sodium lauryl sulfate, BHA, PEGs, and petroleum to name a few. Now, I could make this entire blog post on the negative effects of all these chemicals, but that isn't my goal for this blog post, so lets "Cliff Notes it" shall we?? Effects: links to diabetes, autism, breast cancer, fertility issues, endocrine disruptors, headaches, and respiratory issues, to name a few. Basically I didn't want any of those things on my body anymore, or at least I wanted to seriously minimize my use of them. I won't say that I have tossed all the bad ingredients, but I have learned to minimize and compromise. For instance, when at home with my hair up all day with the kiddo, or I am just showering to run to target or the grocery store, I use my "good for me" shampoo. When it is date night or I am going somewhere I want my hair to look full of volume and awesome, I opt for the one with some bad stuff in it. Everything in life is a compromise.
For so many years I have had oily skin (thanks Dad!), breakouts, rosacea (thanks Mom and my freckles!) I would try tons of different stuff, from super gentle to hundreds of dollars of "miracle" makeup, washes and creams that friends were raving about. Then, one day, I found my soul skincare line: Hippie Skin. Now, I am not saying this product is the end all be all of face care. We all have different needs, wants, price ranges. For me, however, this was exactly what I had been needing. It is an organic skin care line that uses minimal ingredients for a maximum impact. One thing I have loved about it for a while now….when Lucas unscrews the cap off my "night cream", I don't freak out and wash him off super fast, or stick my nose in his mouth to see if he has eaten any! I wipe off the excess and go on with our day. There are a ton of organic lines out there, but I wanted to share why I have been using this in our home for 3 years and why we will continue to do so, in case anyone else out there has broached this topic and gotten quickly overwhelmed! I am asked frequently what I use on myself or Lucas and why I have chosen to use certain products, so I figured this would be a great way to share with everyone!
If you research organic skin care online you are met with a mountain of results, and even more information coming from the companies themselves. It can be quite overwhelming and sometimes infuriating. When I got down into the nitty gritty of a lot of products, there in the ingredients were still awful combinations, how is it even possible they could call themselves an organic line? As of right now, the USDA does not have jurisdiction on labeling claims made in the cosmetics industry. So really anyone can market their product however they would like when using terms like natural and organic. So please make sure to really look at the ingredients of products when you are trying to choose one for your family!!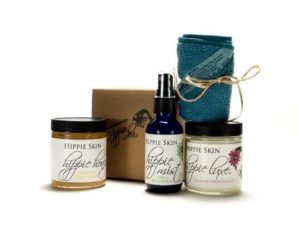 Picture: Courtesy of Hippie Skin
So what do I like about this product line? What is in it!!!…well lets just take a look:
For face wash: Hippie Honey. This has honey, lavender and carrot seed essential oil. That's it?? For a face wash that keeps my oily skin in check, but also does not dry it out in the winter when it gets a little flaky? Yep. Let's break these down really quick: Honey is known for its antibacterial and antioxidant and anti inflammatory properties. The natural sugar crystallizes and it basically feels like a soft sugar scrub every time you use it. Not harsh or grainy, because as you rub the crystallization melts away. So you are getting all the amazing therapies of honey, but also a daily mild exfoliation.
Lavender is known for decreasing redness and promoting blood circulation. Which I am guessing is why it is helping with my rosacea. It also promotes skin healing, so I am thinking that is what is helping reduce the appearance of these acne scars. Lastly, carrot seed has antiseptic properties as well as skin firming ones as well. It helps tighten up those pores some.
For tweens/teenagers/younger adults this would be a great product to use to cleanse the face, neck, shoulder area if they are playing sports and breaking out from sweat. No nasty chemicals, no fragrances, just good stuff from the earth.
For the Toner: Hippie Mist. Witch hazel and Apple Cider Vinegar. Just these 2, it's all you need. The witch hazel tightens pores and also prevents build up of bacteria on the skin (fewer breakouts), and the apple cider vinegar is antibacterial, antifungal and antiviral in nature, so that is pretty much self explanatory. I actually leave this in my gym bag and spray it on my face right after a work out to avoid all that sweat bacteria going back into my pores. That way I don't have to run home and shower right away if I need to run an errand.
For Makeup removing and moisturizer: Hippie Luxe. This has coconut oil, extra virgin olive oil, lemongrass essential oil, and sweet orange essential oil. Here is the kicker for this product: it is multi-functional! I use it as my makeup remover. I just smear it all over my face (including my eyes) and I wet my cloth and wipe it all off. Waterproof mascara and all. I never have to rub, don't have eye lashes falling out, or have to pull and scrub at my skin (no wrinkle causing activities here) to prep my face to be cleaned well. I also use this as my moisturizer, and I need like a pin drop amount to cover my face. Other uses I have found, is for my husband. He has Kertosis Pilaris on his upper arms. It does really well in diminishing the look of that. I also smooth some on Lucas if he gets a dry patch somewhere. I also put it on cuts/scrapes to help with healing. As for the ingredients, coconut oil is known to be able to soak past the skins initial barrier, and it provides anti-inflammatory properties that can help with redness. Olive oil is rich in vitamins A,D, E, and K and can help fight against those wrinkles! It has also proven to help with cases of eczema. Lemongrass essential oil is antibacterial and antifungal and helps to reduce the excess oil on your skin, and help tighten up those pores so that less bacteria gets in (and then less breakouts). Lastly, sweet orange essential oil helps the absorption of vitamin C and supports collagen production which helps skin look radiant.
For the littles: before I let Lucas dip his finger in this I made sure that the EO ingredients were kid safe. I found that sweet orange and lemongrass eo are safe for 2 and over as long as it is diluted. But always test a little spot first before smearing it all over them!
The last item I use as my daily regimen is their Hippie Glow. It is an intensive product, with more essential oils (almond, rosemary, carrot, geranium, rose, and matcha tea). This is like your powerhouse of night creams. It can also double as a makeup primer! I don't personally use this as a primer, because my makeup would slide right off my face, but people do rave about it as such. I use this at night, instead of the Hippie Luxe. So it can rest on my face while I sleep and do some good work for me!
Hippie Skin is a great company, and it is a small company also. Which is another reason I like it. I had one batch of Hippie Honey come once that was just not right, and within 24 hours I had another one on my doorstep. Their customer service is fantastic. Bethany, the companies creator, is just as sweet as she can be. I do not know her personally, but in the emails I have exchanged with her when asking questions about their products, she is always just so lovely. I mean, for someone who owns a company to reach out herself to answer your emails about products she created, that right there keeps me coming back. Oh, and did I mention the price tag?? I told you before I have willingly spent hundreds of dollars on stuff, to use for a couple of months and then it just doesn't work. Well, Hippie Skin is highly affordable (a set is 45.00!!) and it lasts for a very long time. I found the first jar I bought of Hippie Honey I went through quickly because I thought I needed a big ole scoop. In reality, you need a nickel size blob and that is it! There are lots of other things Hippie Skin offers as well, and she is even branching out into natural makeup as well. When I first started ordering Hippie Skin, it was just the set and those 4 pieces, and now she has a whole line of products! I am hoping to try some of the new stuff soon!
I emailed Bethany a couple of weeks ago to let her know I was going to be posting a blog about her Hippie Skin and how much I love it. She responded back with a sweet note and an offer to all the Raising Tiny Healthy Humans readers! Use the Code tinyhealthyhumans and you get 20% off any order of $20.00 or more! This can be used as many times as you would like, for any product! A huge thank you to Bethany and Hippie Skin for that! Also, for the month of June, she is offering free shipping over 49.00 and a free 2 oz bottle of her new lotion with a 20.00 purchase. How awesome is that!!?? You can find the website here: https://hippieskin.com/collections/all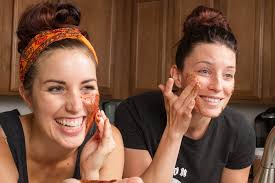 Picture: Hippie Skin's creator Bethany, pictured on the left.