Grab a coffee, take a seat and indulge in two great books!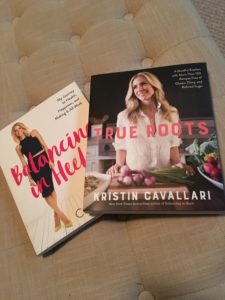 Teen reality star and amazing cookbook author are not two things I think I would have ever put together in a sentence. So how did I stumble upon 2 really good introductions to healthy cooking that was indeed penned by a teen reality star I have pretty much done everything to avoid in my youth?..Let's take a look.
It all started when a friend of mine told me there was a "cute new reality show about fashion and Nashville" on TV. Pretty much everyone around me knows how much I long for home (Alabama) so anything on TV that is remotely close to it, I tune in to give my accent a tune up. I started watching this new show "Very Cavallari"..wait, she looks familiar. As I googled, I realized it was Kristen Cavallari, famous reality star from Laguna Beach and The Hills. I had never watched either show and frankly did all I could to avoid reality TV in general. I never got the "Team Heidi" shirts or random jokes from that show. So here it is 15 or some odd years later, and I am face to screen with a woman I never once took seriously, only now she seemed poised, smart and articulate.
During all of my googling, I found that she had also written a couple of books. Her first one, Balancing in Heels, is about her and her life and how she has gotten to the mindset of where she is now with her health, happiness and work life. The second one, True Roots, is a cookbook she collaborated with Chef Mike Kubiesa to make an astounding entry level look at DIY healthy organic cooking for adults and kids at home.
I have never read a book, especially one that involves information about eating and nutrition, that I don't have at least some disagreement with, but this book is different. This first book really spoke to me and I see it as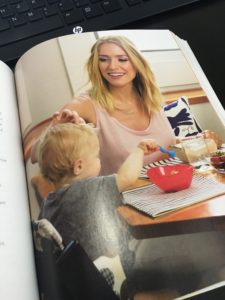 a fabulous "entry level" book for anyone that is wondering how a whole foods, organic food lifestyle would work.
In, Balancing in Heels, while she mainly talks about her entry into Laguna Beach, meeting her husband and then having kids and the challenges of that, the most interesting part is her discussion of her mindset change on food. She discusses how when she was younger it was all about calories in and calories out, never looking at the quality of the food itself. When she became pregnant with her first child, all that changed.
She discusses GMOs, additives, vitamins and supplements and some quick and easy food ideas. Keep in mind though, that this is mixed into a book about her life, but if you have no interest in that, you can skip those chapters and head straight for the lifestyle. She also thr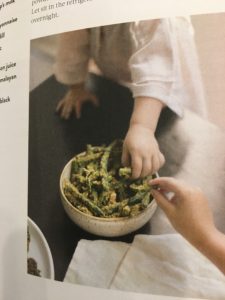 ows some good tidbits in there on working out with kids, and how to have a good wardrobe for home or work.
Her words are very inspiring, and she even throws in some of her favorite easy recipes in this book. I think my favorite thing about her philosophy with food is that it does not have to be 100% all the time. Moderation is key. She understands that going out to dinner, sacrifices are made and not so great food for you is usually consumed, but instead of feeling guilt or shame about it, she just goes home and the next meal is healthy, home cooked. Eating healthy is a lifestyle, not a diet, and she could not be more spot on with that or any of the other great points she makes. Is this ground breaking new info? No, it isn't. But she puts forth this information in a relaxed, well spoken and interesting way in her book. A way that keeps you reading and not getting bored, or thinking "this is just too hard, no way can I accomplish this for my family".
So if you are new to a healthy, organic style of cooking and eating, I highly recommend this. It is a one-stop shop for a variety of information, no need to rummage through 456 pins on Pinterest that you have saved. Also, if you are like me, and not new to this lifestyle, I highly recommend as a light and easy refreshe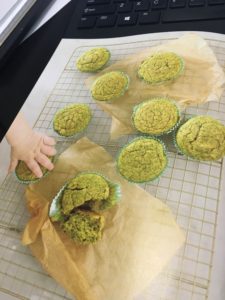 r or even just a rejuvenation of your eating philosophy and motivation.
I was glad I ordered both of her books off Amazon at the same time, because her first book really paved the way to understand why she penned a cookbook like she did, and gave her the bones fides for someone like me, a skeptic of a reality star, to actually take the cookbook seriously.
True Roots does not discuss GMOs vs. Organic foods, additives, etc like Balancing in Heels did, it is a true cookbook. There are tons of family friendly recipes in there, one of my favorites being Buffalo Chicken Salad. These actually made an appearance on one of her show episodes, Since I recognized what it was I thought "here we go, let's start plugging the cookbook now". Nope. There was hardly a mention of either of her books in the show, not knowing the exact timeline of filming and publishing, I am not sure if it was on purpose or not. Even then she could have been "Hey Jay (her husband) want some of these Buffalo chicken salad wraps I'm putting in my new cookbook?". This kinda made me like it even more. The book stands alone, without her plugs about it in her new show. Another favorite of mine is her pudding pops, made totally from scratch with coconut milk, cocoa and organic gelatin. I have not made everything in this book or her first, but it is definitely one I am pulling out on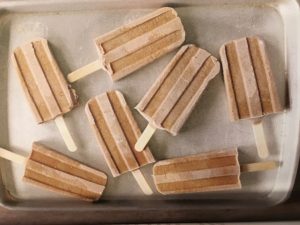 more occasions than not.
So which book would I pick if I could only have one? For me, it would be True Roots, only because I am familiar with a healthier form of eating in our house. If I wasn't, I would pick Balancing in Heels to give me the info and motivation to do so and then ask for the other book for Christmas! Oh, and one other thing, the recipes and ideas she puts in her first book are not redone in True Roots. I liked that also!
If you get one or both of these books comment in our private facebook group on which recipes you have tried and post some pics!!
In happy and good health,
Erin